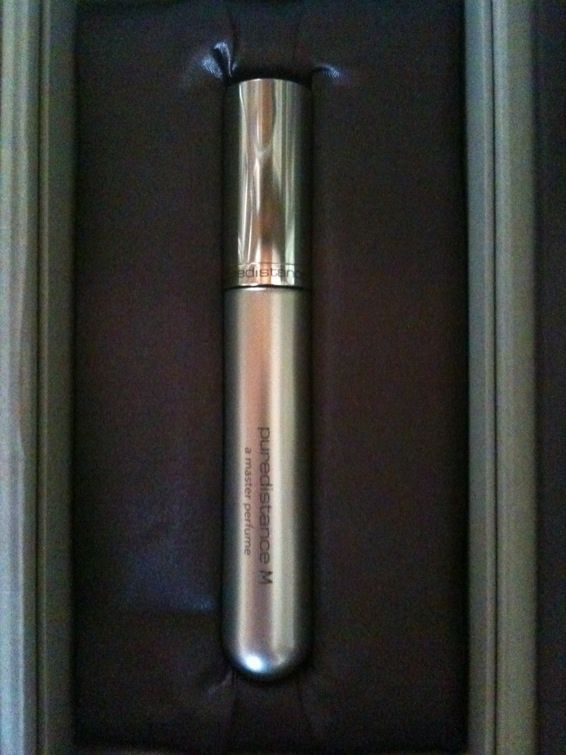 Today I am wearing Puredistance M , created by Roja Dove for Puredistance in 2011 . I had completely forgotten how much I adore this fragrance ! Suddenly , it has taken over the NUMBER ONE spot . Puredistance published a book of reviews about their fragrances , and as a thank you sent the writers of each review a 15 ml tube/bottle of the fragrance of their choice . They included my review , re-published below , and I chose "M" of course !!
"M" opens with the distinctive bergamot/lemon accord that is signature also to Diaghilev , and it stays , hovering and providing contrast to the beautiful smoky leather rose that develops . From a distance this throws a soft sigh of florals , but in close that roughed up old leather jacket is smoky and warm . The sillage very much reminds me of Diaghilev , but this girl ain't been at the Ballet , she's been in the Lounge nuzzling a biker and drinking expensive Cognac . ( review re-published below from 2011 )
He's at the "Club" sipping brandy of vintage origin . He might have breifly enjoyed a few puffs on a contraband Cohiba just minutes ago . Because it's an occasion he wears a dark red rose in his lapel , and though he's as sexy as it gets , he has a soft side . It takes takes time to know him , he's complex and moody . One day he'll wear a Saville Row suit , another his ragged biker jacket . Today he's in his favorite jeans and the black silk shirt she gave him for his birthday . He looks up and smiles and his lady slides into the dark leather banquette beside him . She's wearing white charmeuse , and she kisses him tenderly and whispers
" Happy Birthday Darling..."
Notes -
Top - Bergamot, Lemon
Heart - Rose, Jasmine
Base - Cinnamon, Patchouli, Mosses, Cistus, Vetiver, Patchouli, Vanilla, Leather, Musk
Gorgeous !
In celebration of my birthday today , I am giving away a luxury boxed set of all three Puredistance samples . Tell me why you want to try them in order to be entered in the draw . Please include a way to contact you .
Happy Holidays and Happy Sniffing...Many thanks to Alina Dreve from Puredistance , for providing the boxed sample set for our drawing .
The draw is now CLOSED .